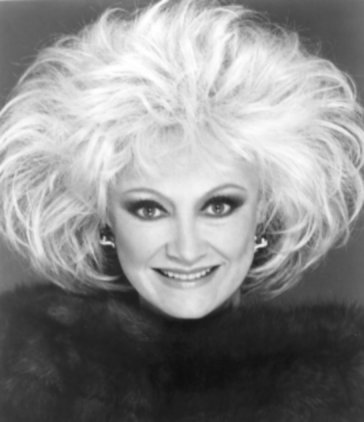 Phyllis Ada Driver was born in Lima, Ohio, in 1917. Following the usual path, she attended highschool, ended up in a Music Conservatory in Chicago, then followed through with college in Ohio.
She studied the piano for years, but decided not to pursue her career in music. Instead, she eloped with Sherwood Anderson Diller, and they moved to California, where they had five children.
She worked as a journalist for the San Leandro News-Observer, and ended up being a contestant on "You Bet Your Life", hosted by Groucho Marx. She gave a very memorable performance, and then received an offer to perform in San Francisco at The Purple Onion, and she eventually ended up on the Jack Paar show.
She adopted a stage personality of her own creation, a disgruntled suburban housewife whom referred to her husband as "Fang". She frequently joked about her frequent face lifts, and smoking cigarettes while she laughed at herself. She never really became any sort of "movie star", though she performed in many of the Bob Hope movies, and as a regular on his Christmas Specials. She did do well in the theater, though, appearing in many plays, but most noted for her performance as Dolly Levi in Hello, Dolly! For awhile, you could not watch any television program without finding Phyllis as a guest on them.
Her marriage to Sherwood ended in 1965, and she quickly remarried Ward Donovan, who turned out to be gay. They eventually divorced, as well. She created two television series, but they were poorly received. She did end up performing with her piano, though, using the pseudonym Dame Illya Pillya, she performed with over 100 Symphony Orchestras. She has also published five best selling books.
She continues to perform to this day, occasionally guesting on TV shows, and singing.
Married and divorced twice, she had six children, one of them born a "blue baby" who died after only 2 weeks. One of her children has died of cancer, one of a stroke. One continues to fight schizophrenia.